Online Workshop Timezone:
Asia / Kuala Lumpur
Materials language: English
Hours Total / Per Day:
14 / 4
Description
Employee Engagement, Change Management, Leading through Disruption, Agile Organizations. This is the Management 3.0 Foundations Workshop

Agility is now an essential
Agile organizations used to be a buzzword. Some organizations see the value is Agile methodologies in software, or perhaps project teams. A bigger number know agility as an organization is an evolving trend. No one would predict how essential it suddenly became. "As the global coronavirus crisis is forcing many organizations to act with unaccustomed speed, organizational agility has suddenly become a necessity." (Forbes magazine, May 2020)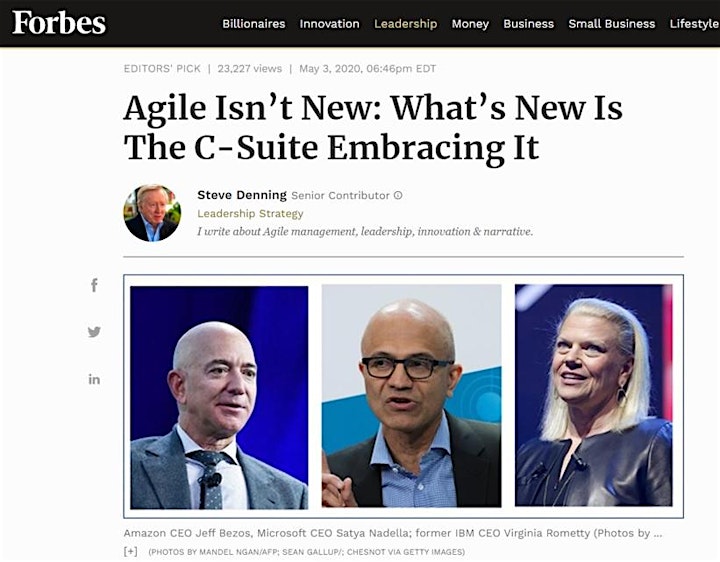 What is Agile organizations? Introducing Management 3.0
Management 3.0 encapsulates what Agile Leadership is. It captures the practices and methodologies of what an agile organization does and is. Here's what it is in a nutshell:
Management 1.0 is doing things the one right way and teaching workers to do it (think SOP's and the one best way of doing work. E.g. factory operations)
Management 2.0 is finding out that there are several possible "right" ways to do business (think about different strategies & best practices that various companies do to best one another)
Management 3.0 is no longer about managing people - but unleashing them to come up with the bestas within strategic constraints. It is agile management practices that responds to customers, market trends and about being innovative.
Key Principles of Management 3.0
Learn the key principles of Management 3.0 in this Leadership Foundations Workshop
Management 3.0 and Leadership
Complexity Thinking
Energize People: Motivation and Engagement
Empower Teams: Delegation and Empowerment
Align Constraints: Metrics and OKRs
Develop Competence: Feedback and Positive Performance
Grow Structure: Distributed Team Management
Improve Everything: Experiments and Innovation
Who Should Attend
If you're a Agile Practitioner, Project Manager, C-Suite or Senior Manager, Business Owner, HR Manager, Team Leader, Change Leader, Middle Management or want to be a great people leader regardless of title, this workshop is for you!
Module 1. 3rd December 2020
Module 2. 4th December 2020

Module 3. 10th December 2020

Module 4. 11th December 2020

Module 1. A New Shift of Leadership and Business Thinking
Agile management is a proven approach to leadership and governance of creative teams and people. You will learn about different methods, popular practices, challenges in Agile adoption around the world, and the contribution of the manager and team leader in Agile organizations.
Complexity thinking is the cornerstone of an Agile mindset. You will learn what complexity theory is, how to think in terms of systems, about the difference between complex and complicated, about fallacies of traditional linear thinking, and suggestions for complexity thinking.
Module 2. How to Build Highly Motivated, Engaged and Empowered individuals and Teams in Your Organization
Intrinsic motivation is the reason people get out of bed in the morning. Since people are the most important parts of an organization and managers must do all they can to keep people active, creative, and motivated. You will learn about the difference between extrinsic motivation vs. intrinsic motivation, the ten intrinsic desires, and common techniques for understanding what is important to the people in your teams, such as one-on-one meetings, personal assessments, the 12 most important questions, and 360 degree evaluations.
Self-organization can offer many answers when it comes to good management. Teams are able to self-organize, but this requires employee empowerment, authorization, and trust from management. You will learn how to make self-organization work, how to distribute authorization in an organization, the challenges of empowerment, how to grow relationships of trust, and several techniques for distributed control, such as the 7 levels of delegation, and authority boards.
Module 3. Creating Google-like Cultures
Goal setting is important, since self-organization can lead to anything. Therefore it's necessary to protect people and shared resources, and to give people a clear purpose and defined goals. You will learn when to manage and when to lead, how to use different criteria to create useful goals and metrics. Metrics in traditional organizations strike disempowerment and control. Metrics in Agile, innovative organizations are empowering, fun, liberating.​
Competence development is key when it comes to doing a good job. But how do teams know when they are doing a good job? Do they decide for themselves? How do they know where to improve? The role of mentorship and coaching is not as difficult as managers think. But the traditional methods of feedback create as much fear as it points out areas for improvement. The organizations of the future make feedback not about what they did wrong, but how they can do better, in a positive way!

Module 4. How to Create Learning and Agile Organizations and Structures
Organizational structures significantly impact how an organization works. Many teams operate within the context of a complex organization today with distributed cross-functional teams, remote working. It is important to consider structures that enhance communication. You will learn how to manage distributed and remote working teams. How to let teams self-organize without seeing them, yet still be able to strengthen bonding and team synergy.
Change Management Redefined: A Culture of Innovation and Experimentation
Change management is one of the things people in all kinds of organizations struggle with most. People, teams, and organizations need to improve continuously, in order to defer failure for as long as possible. In practice this means that managers and leaders must act as change agents, trying to change the social complex systems around them. You will learn about the 4 facets of change management, which address the system, the individuals, the interactions, and the boundary of the system.
Be Part of a Global Leadership Team
Since 2010, more than 470 management coaches around the world are now facilitating the future of management through these two-day, hands-on workshops that offer games, tools and best practices that project managers, team leaders, middle management and C-level execs can take back and use immediately to start increasing employee engagement and instigating change management today.
Workshop fees from €235 / RM1099 (regular tickets for Online Fundamentals)
International certificate by Management 3.0, Netherlands, 2-day program.
For more information, contact juliuswee@nikao-consulting.com

Thank you for the registration. Your registration has been sent to Julius Wee. Julius will contact you soon to provide more info on payment and other formalities. For further questions regarding this workshop please contact Julius directly
---
Have you already heard about our Management 3.0 Community of Practice?
Become a Management 3.0 Supporter now and continue the conversation. Connect with other like-minded people who are in the middle of creating transformational change at their companies. Gain new impulses, ideas and strategies.