Online Workshop Timezone:
America / Bogota
Materials language: Spanish
Hours Total / Per Day:
10 / 1
Description
Descripción
En tiempos del VUCA*, el COVID-19 nos obliga/impulsa a reinventar las interacciones presenciales ahora de forma necesariamente remota. Encontrar oportunidades en estos tiempos es la clave y ayudarte a adaptarte rápidamente a este nuevo contexto nos pone a prueba nuevamente. Como lo plantea el CEO de Amazon...
Lo que necesitas como compañía es maximizar la cantidad de experimentos que puedes hacer por unidad de tiempo. Jeff Bezos, Harvard Business Review
Por esto te presentamos: Management 3.0 Fundamental Online Workshop, enfocado 100% en ayudarte a adaptar tu modelo de gestión lo más rápidamente posible para darte la flexibilidad que necesitas para la gestión del trabajo remoto.
¿Por qué ahora?
En estos momentos las competencias para gestionar de equipos y el teletrabajo se hacen indispensables. Y por ello necesitamos desarrollar una nueva mentalidad acompañada a prácticas y herramientas enfocadas a responder a este nuevo paradigma que emerge.
¡Este taller de Management 3.0 está diseñado para profesionales que trabajan con equipos remotos donde aprenderán cómo liderar equipos remotos, así como facilitar reuniones remotas y cómo dar feedback en un entorno virtual.
El taller está diseñado para impartirse en línea. Hemos adaptado todas las herramientas, ejercicios y la agenda para convertirla en una experiencia virtual.
¡No esperamos que te sientes frente a tu computador durante ocho horas!
A quién está dirigido?
Directores, gerentes, jefes, líderes, coaches ágiles, scrum masters, product owners, facilitadores, consultores o miembros de equipos de proyectos.

Personas involucradas en el cambio cultural de la organización y en proyectos de Transformación Ágil / Transformación Digital.

Personas con interés en mejorar su estilo de management, el crecimiento y la mejora de sus equipos de trabajo y el desarrollo de las personas en general.

Personas responsables de recursos humanos, interesados en nuevas formas de atraer, retener y desarrollar el talento.

Empresas de todos los tamaños y sectores (industria y servicios) que quieran desarrollar o experimentar un nuevo sistema de gestión en su organización.
¿Qué aprenderás?
En el Taller en línea de Fundamentos de Management 3.0 Online aprenderás los conceptos básicos de Management 3.0, con un enfoque claro en las prácticas que resultan más útiles para tus equipos remotos.
Los módulos cubiertos en este taller son: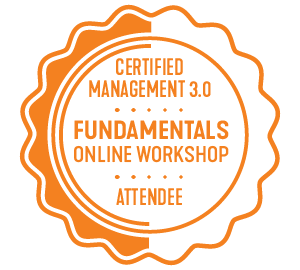 Beneficios:
Obtención del certificado Internacional "Certificate of Attendance del Fundamentals Online Workshop" emitido por Management 3.0 y firmada por Jurgen Appelo.
Entrenamiento a cargo de Luis Mulato, pionero en agilidad en Latam y uno de los primeros trainers de Management 3.0 en la región. Con una evaluación media de 9.2/10 dada por más de 856 asistentes, es el 8vo trainer mejor valorado de 492 facilitadores a nivel global.
Materiales:
Toolkit Management 3.0 en digital, el cual incluye: Meddlers, Moving Motivators Cards, Delegation Poker Cards, Improv Cards, Kudos Cards.

Materiales de Trabajo digitales para prácticas a realizar en el Workshop.

Acceso a herramientas online de Management 3.0

Libro electrónico: "Management 3.0 Workout"

Libro electrónico: "How to Change the World".

Presentaciones del entrenamiento (en versión digital)
Horarios:

Sesión 1: Miércoles 19 de Octubre
Sesión 2: Miércoles 26 de Octubre
Sesión 3: Miércoles 02 de Noviembre
Sesión 4: Miércoles 09 de Noviembre

⏰ 08am a 11am Colombia/Perú/México – Time Zone (GTM -5)

⏰ 09am a 12pm Chile/Paraguay – Time Zone (GTM -4)
⏰ 10am a 13pm Argentina/Uruguay – Time Zone (GTM -3)
Nota: El 31 de Octubre México cambia de zona horaria de las 8am a las 7am
Requerimientos técnicos:
PC/Laptop para conectarse al Workshop Online.

Buena conexión a internet.

Cámara de video para las sesiones

Descargar e instalar Zoom en su equipo

Tener una cuenta en Gmail para poder usar Documentos de Google (Gratuita)

Tener una cuenta en Mural (Gratuita)
¿Qué necesito para participar?
Pensamiento abierto, buena actitud, disposición al cambio y deseo de compartir experiencias.

Para obtener el certificado internacional Management 3.0 Fundamental Online Workshop debe asistir a las 4 sesiones (10 horas).
Cómo se realizan las sesiones?
El workshop de Management 3.0 Online tiene un enfoque 100% interactivo donde los participantes estarán en constante participación y aplicación de diversas prácticas y herramientas de Management 3.0.
La metodología bajo la cual se desarrolla el Workshop consiste en:
Sesiones online realizadas vía Zoom, la cual se utilizará para presentar y compartir los temas del workshop, así como para facilitar la participación y colaboración entre los participantes.

Haremos uso de la herramienta Kahoo.it para una retroalimentación temprana de los aprendizajes de los participantes.

Tendremos encuestas durante las sesiones usando el módulo de encuestas de Zoom.

Se utilizará la herramienta colaborativa y de facilitación como Mural donde participantes aplicarán los diversos ejercicios y prácticas.
Más información escríbenos a aprendamos@agilespin.com
*VUCA: V-olatility, U-ncentainty, C-omplexity, A-mbiguity
This workshop is organized by Luis Mulato. Your registration will be sent to Luis directly.
Thinking of becoming a Management 3.0 Facilitator? In order to become a Management 3.0 Facilitator you must also attended the Fundamentals Plus Workshop or + 6 hours in other Management 3.0 workshop(s). You can also become a Facilitator another way: Earn your Certificate of Practice. Once you have received the Certificate of Practice you can apply to become a Facilitator. See more details here.
Go To Registration Page
Thank you for the registration. Your registration has been sent to Luis Mulato. Luis will contact you soon to provide more info on payment and other formalities. For further questions regarding this workshop please contact Luis directly
---
Have you already heard about our Management 3.0 Community?
Become a member of the Management 3.0 Community to see behind the scenes and learn how other practitioners apply its principles and practices in the real world.
The Management 3.0 Community is a safe space to learn and practice with others, learn how others have successfully applied Management 3.0 in their actual work contexts and get support to apply your learnings to your leadership challenges.