by Erick Masgo a Management 3.0 Facilitator
Do you know the purpose or the motivations behind the company you work for? If not, it is very important that you do since the purpose serves to create a deep link between the company and its customers (internal and external). To express the purpose of a company is of key importance, because if customers connect with the reason for their existence, you will achieve a higher level of commitment and loyalty on their side.
Speaking of this, at the SOA PROFESSIONALS company, an Information technology consultancy in Peru, where I currently work as a Human Talent Manager, we decided as part of our reinvention, with our senior managers and leaders, to redefine the purpose of the company using the Ikigai tool.
So we worked in a collaborative way to first understand how this tool could help us define the company's new purpose.
What is the Ikigai?
Ikigai, is a Japanese word, which translated literally would mean: "what is worth living for." It is a practical tool for all people who want to discover the meaning of life, or what makes you wake up with excitement every day.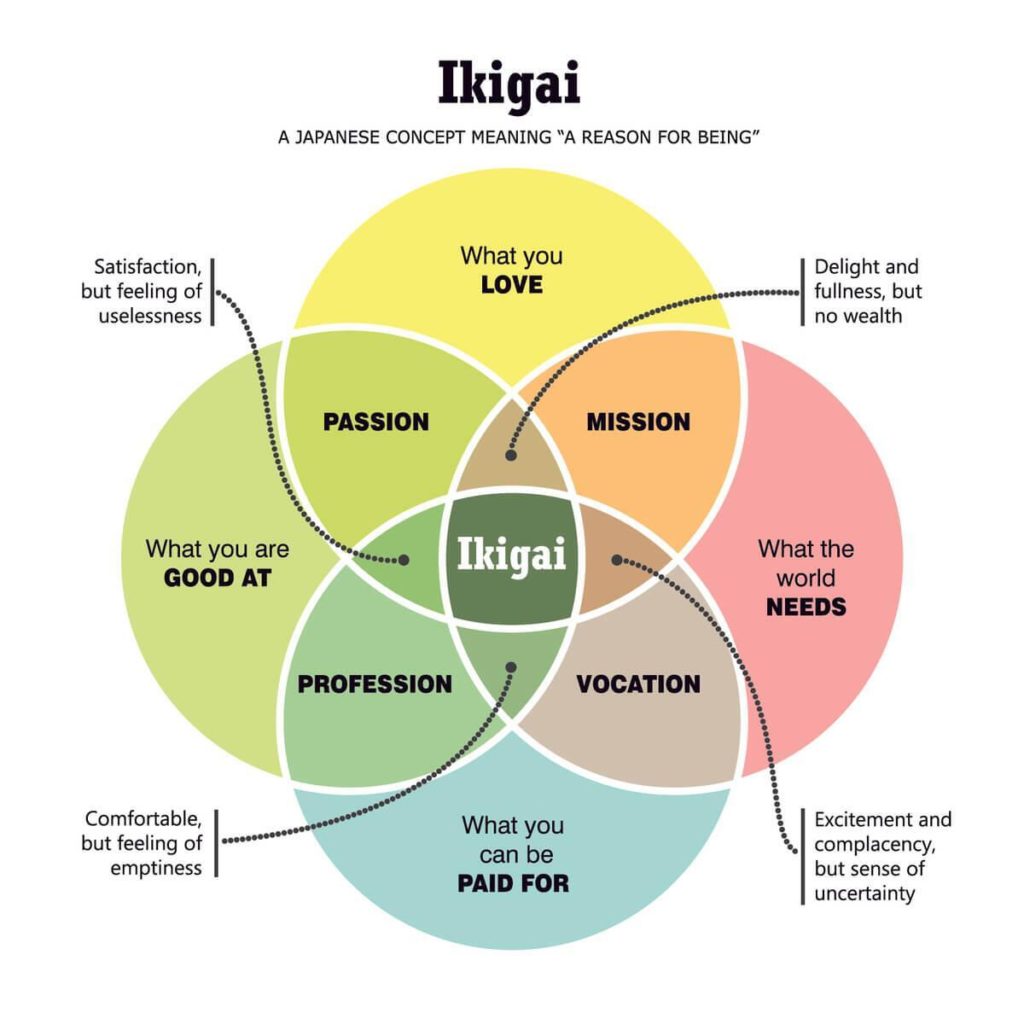 Using Ikigai to define or redefine company's purpose
Working in co-creation sessions, we answered the following questions:
#1: What you are good at?
What are we good at?
What are the skills and talents we have?
What do we have experience doing?
#2: What does the world need?
#3: What you love?
What do we like to do or experience?
What are the things that make us happy?
#4: Why do you get paid?
What are the things with which we can earn money?
Things we can do or create that can pay us?
Once the previous questions have been answered, we obtain
information about the company in the following aspects:
A: Passion: The things we are good at and love to do
B: Mission: The things that we love to do and that the world also needs.
C: Profession: The things we are good at and can be paid for.

D: Vocation: The things that we can be paid for and that are also what the
world needs
E: Ikigai: Our Ikigai is the personal intersection of what we are good at,
what the world needs, what we can be paid for and what we like to
do.

To Conclude – Ikigai & Purpose:
The purpose for companies will not only determine how they can improve the world, but will allow their workers to feel proud and identified with where they work. That is why it is very important that companies define or redefine their reason for being and be internalized throughout the organization.
Photo credit: Erick Masgo