Online Workshop Timezone:
Europe / Bucharest
Spoken language:
English / Romanian
Materials language: English
Hours Total / Per Day:
8 / 4
Description
What does it take to build a high-performing team?
In my Agile Team Leadership workshop, which is a follow-up to the Management 3.0 Foundation workshop, you will be enabled to better serve your team as a leader, set up the right conditions for self-organization, and foster growth for both the team members and the team as a whole.

Lead and grow self-organized agile teams to high-performing teams – with the
Management 3.0 mindset and tangible tools!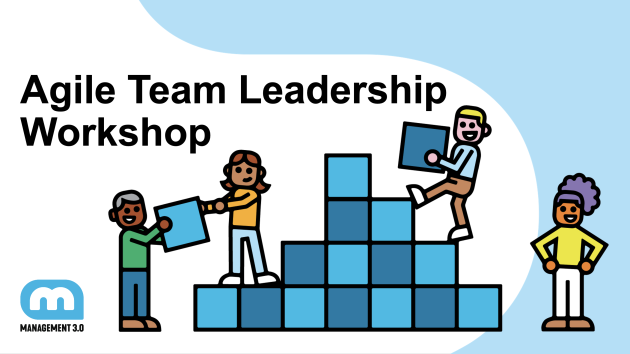 🕙 Daily from 14:00 to 18:00 EEST (Eastern European Summer Time)

Participate from anywhere. You only need a computer, webcam, microphone and some space to actively immerse. Also, you will need some familiarity with using Mural. Check out the onboarding module here.
You will be introduced to a wide range of hands-on tools and practices to experiment with your team: You will get to know the Team Decision Matrix for fostering team decision-making and techniques for giving and receiving better feedback based on trust, a crucial building block of high-performing teams. Furthermore, you will develop a plan to create more fun within your team – to make happiness at work the norm and not the exception.


Pre-Requisites for attending the Agile Team Leadership Workshop
The Foundation Workshop and the Agility in HR Workshop is where you learn the essential pillars and tools of Management 3.0. It is required that you attend one of these before attending the Agile Team Leadership Workshop. This is a follow-up workshop which leverages the full potential of the initial training.
🤔 This workshop's topics will be interesting for team leads, managers, change managers, agile coaches, scrum masters, project managers, HR experts, and directors who work in agile environments and want to improve their leadership skills.



💡 At the end of this workshop and your active participation in all sessions, you will be able to:
● Better serve your team as a leader
● Set up the right conditions for self-organization
● Foster growth for both the team members and the team as a whole.

Modules covered in this workshop are:


● Individuals and Interactions

HELLO, my name is Amir Peled 👋
I have extensive experience and knowledge in Agile ways of working, starting from early 2006, and Management 3.0 starting from 2013.
You can find out more about me by clicking here.

If you require additional information, you can contact me directly through these media:

● LinkedIn: access my profile
● Email: contact@amirpeledagile.com
● Website: https://amirpeledagile.com/

● Whatsapp: +40-747-874-150
Ticket prices
Early Bird
199 EUR (Taxes included)
Offer ends on Sunday 4th of June 2023
This workshop is organized by Amir Peled. Your registration will be sent to Amir directly.
This is a follow-up workshop after attending a Management 3.0 Foundation Workshop. See the workshop description for more info and prerequisites.


Go To Registration Page
Thank you for the registration. Your registration has been sent to Amir Peled. Amir will contact you soon to provide more info on payment and other formalities. For further questions regarding this workshop please contact Amir directly
---
Have you already heard about our Management 3.0 Community?
Become a member of the Management 3.0 Community to see behind the scenes and learn how other practitioners apply its principles and practices in the real world.
The Management 3.0 Community is a safe space to learn and practice with others, learn how others have successfully applied Management 3.0 in their actual work contexts and get support to apply your learnings to your leadership challenges.